West Hartford Homes for Sale
Located in Hartford County West Hartford is filled with history, old world charm and a modern flare. There are wonderful shops and sites to discover in every corner of town!
West Hartford Center is an ideal location for taking a stroll and stopping by restaurants, coffee shops, boutiques and specialty shops. Not far from the Center you will find Blue Back Square, a happening spot with seasonal outdoor concerts, boutiques and national businesses including REI, Bow Tie Cinemas, Cheesecake Factory, Crate and Barrel and Barnes & Noble. If you are on the other side of West Hartford and need to shop, you are in luck. Corbin's Corner across from the Westfarms Mall has even more shops, restaurants and businesses for all your needs.
Bishop's Corner is a great spot for local businesses, restaurants and health care facilities. Park Road in West Hartford is between the Center and Corbin's Corner and is a diverse shopping area with ethnic markets, restaurants, hair salons, clothing and tailoring, paint stores, garden centers, jewelry stores and much more.
In West Hartford you do not need to be worried about being bored. There are activities all around town! Start at the birthplace of Noah Webster, the award-winning Rockledge Golf Club, The Children's Museum of Connecticut, the Connecticut Veterans Memorial Ice Skating Rink and end at the renown West Hartford Center. During June the roses at Elizabeth Park gardens are in bloom while the tulips and daffodils are discovered in March and April.
Academia is all around West Hartford too with The University of Hartford, University of Saint Joseph and the University of Connecticut. The universities offer concerts, art galleries, plays, museums and sporting events all year long.
For the ultimate West Hartford guide check out  http://www.thewesthartfordbook.com!
West Hartford Schools
Our community offers residents access to a number of fine private and public schools for all grade levels. Please read below for information on each of the schools in our area.
High Schools

Conard High School
Hall High School
Hartford Christian Academy
Kingswood Oxford School
Northwest Catholic High School
Middle Schools
Bristow Middle School
King Philip Middle School
Sedgwick Middle School
St Brigid School
St. Timothy Middle School
Our Magnet Schools
Charter Oak International Academy
Florence E. Smith STEM School
Elementary Schools
Aiken Elementary School
American School For The Deaf
Ben Bronz Academy
Braeburn Elementary School
Bugbee Elementary School
Charter Oak International Academy
Duffy Elementary School
Hartford Christian Academy
Montessori School Greater Hartford
Morley Elementary School
Norfeldt Elementary School
Renbrook School
Smith School
Solomon Schechter Day School
St Thomas The Apostle
St Brigid School
Florence E. Smith STEM School
Webster Hill Elementary School
Whiting Lane Elementary School
Wolcott Elementary School
Other Schools
PreKindergarten
Continuing and Summer Education
Early Learning Center
REACH
STRIVE
WAAVE
ACHIEVE
Detailed school information provided by GreatSchools.org and West Hartford Public Schools. Public and private school information is provided by sources including GreatSchools.org and various MLS services including the HGMLS, CMLS, CT-MLS, NCMLS, DARMLS and Greenwich MLS, and is subject to the terms of use on those sites. William Pitt and Julia B. Fee Sotheby's International Realty believes the information provided by these sources to be accurate but will not be held responsible if any data as well as information such as school districts for listings is inaccurate.
Hot Property in West Hartford
A Home with a Story to Share
Within the walls of every home lies a story. No matter how big or small, how old or new, there's always meaning—distinct touches from the past and present that reflect each individual who lives there. Such is the case for the owners of 1093 Prospect Avenue, West Hartford, a stunning Colonial estate designed in 1929 by renowned architect Grosvenor Atterbury. This West Hartford, Conn., residence is home to an unforgettable collection of 18th-century Baroque porcelains by Claudius Innocentius Du Paquier, which, according to an article in The Hartford Courant, is the largest private collection in the world, gracing the beloved home with elegance, personality and a story behind everything.
Featured just last year in the pilot episode of the CPTV series "You are Cordially Invited," a show that highlights the designs, displayed collections and entertaining pasts of exquisite homes throughout the country, this 12,000 square-foot residence has consistently attracted  great attention. In addition to housing the majority of the works included in the Metropolitan Museum of Art's 2009 Du Paquier exhibition, the residence also features a variety of Degas sculptures, as well as a Steinway piano inset with satinwood autumn leaves signed by the renowned pianist and composer of "Autumn Leaves," Roger Williams. For years, guests have enjoyed these characteristic treasures that comprise the very essence of the home—a home that is ideal for entertaining on an incredibly grand scale.
Iron gates welcome visitors into the 16-room mansion known as Eyrie Knoll, or "nest on a hill." The historic residence was custom built with the finest materials and craftsmanship, and recently renovated to preserve its quality, character and charming period architecture. The main floor exudes a welcoming, glamorous appeal, offering a formal living room with enough space for three seating areas and two concert grand pianos. It is here that the current owners have held numerous fundraising concerts and events, explaining to The Hartford Courant that they are dedicated to offering "more than just a drink" with a home invitation.  Entertaining features continue in the adjacent Champaign bar, state-of-the-art double-height chef's kitchen and gracious formal dining room, where the one and only Julia Child once sat during a professional chef event held at the house on November 18th, 1999.
The second level contains a luxurious master suite with a gas fireplace, two custom dressing rooms, an oversized master bath and a beautifully renovated sleeping porch overlooking views of the 2.24-acre property and surrounding gardens. Two private offices, as well as two guest rooms, each with their own fireplace and en-suite bath, complete the floor. Three additional guest bedrooms and entertaining spaces are available on the third and lower levels of the home. Features include a 10,000-bottle wine cellar and adjoining tasting room, a billiard from, play room, second full kitchen and more. The wonder continues outdoors in a private, pristine setting, where residents and guests can relax and mingle on a terrazzo patio, terrace and covered porch. Further amenities include a swimming pool, lap pool and spa. Visitors can extend their stay in the estate's elegant guest house apartment, which offers one bedroom, one bath, a full kitchen, living room and views of the surrounding landscape.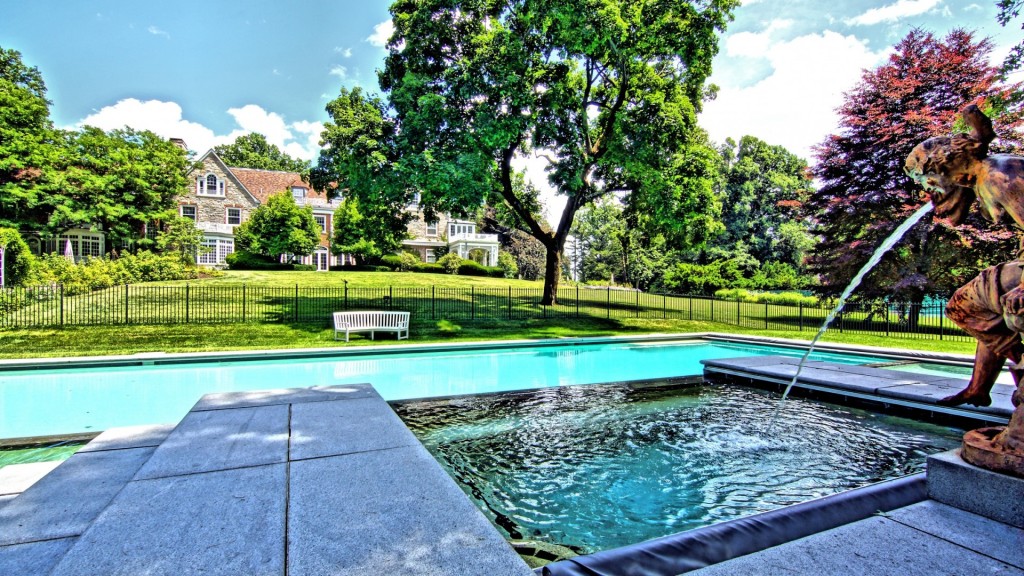 Home located at 1093 Prospect Ave in West Hartford.
Posted by: Megan Montemarano, William Pitt Sotheby's

Sorry we are experiencing system issues. Please try again.